It's not often you come across actors who discuss their limitations, innate fears and insecurities openly and also laugh about it as unabashedly as Jayasri Rachakonda. Acting was probably the last thing on her mind as a young rebellious teenager when she found her mojo in sports, flourishing in co-curricular activities at school. By the time she realised she had a dream, she was married to a Karimnagar native. From the feisty girl bustling with energy, growing in Ramagundam to being a newly wedded wife in a conservative family, her world turned topsy-turvy in a matter of days.
Beyond her roles as the doting mother and the loyal wife, what she strived for is an identity, something she could call her 'own'. Drowning herself in books as she wrapped her graduation and LLB course after marriage, managing her household and raising a child, her life was all about running from pillar to post. Just when all her plans seemed to be working her way, life hit a rock bottom with an accident and she was bed-ridden for years.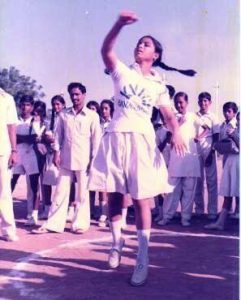 It took a lot of time to earn her self-esteem back and it was a mere accident that she donned the greasepaint when her junior Praneeth Yaron cast her in Sita on the Road after a reunion. It lead her to Prasanth Varma's Awe, later a small budget film Mayam. One opportunity paved way for another; Burrakatha, Vithalwadi, Valliddari Madhya, Mallesam and the web series Chadarangam happened and there was no looking back. From being a sports enthusiast to a high court advocate to building a career in films, Jayasri, now a grandmother to a months-old baby, has led a life with many crests and troughs. She has made peace with all her regrets and remains a cheery soul. Klapboardpost.com gets her to relive an eventful life in this tête-à-tête.
It all began here…
My father (R V Narsinga Rao) was a strict man, a chartered accountant in Fertilizer Corporation of India, Ramagundam while my mom (Vijaya Lakshmi) was a homemaker. It was a world of its own, the atmosphere in our surroundings was secure and democratic; no one worried about social status, regional identity or other lingual barriers. There were open air theatres where we used to watch one film every week. I cared for academics as long as it could give me wings to pursue my sportive interests. I was cast in a school play out of the blues and I surprised myself with my performance, earning applause from many.
I even got to represent my school in sports on a national level meet and just as I was returning from an event from another state, my marriage was fixed. My husband had seen me in a marriage and approached my parents with a proposal. I was barely 16 and no one had asked me if I was ready for it. The proposal came in January and I was married within a month. The girl who attended the national sports with me went onto win at the Olympics and I felt really low. The transition from being a free-spirited girl to a daughter-in-law in a conservative family (in Karimnagar) minus any social life was difficult.
A new lease of life with academics
Few years after I gave birth to my daughter, we shifted to Hyderabad and it took some convincing from my end to pursue my B.A in distance mode. I was still hungry to pursue my interests and I got to do law in OU; it was the same that place that my brother and sister went onto study too. It was like a breath of fresh air getting to achieve something (bagging a double-digit rank) on my merit. I went onto do my LLM and PG Diploma in Intellectual Property Rights in the University as well.
I don't know how those years went by, life was so busy and my husband was on regular tours. I singlehandedly managed my daughter's needs, used to attend the court in the morning and attended the classes in the evenings. My daughter joined Rishi Valley School, Madanapalli for a couple of years and it gave me a good window to focus on my academic pursuits.
I was in a rush to do things, make up for the lost time. I wanted to try my hand at civil services examinations, used to attend classes early mornings, wake up my daughter, get her ready for school, head to court and return to classes. While I was dropping my daughter to her music class, I met with an accident being hit by an auto. My daughter was unhurt while I had got my knee joints damaged. I ignored it, my situation worsened and I was bedridden for years. I was on an all-time low and I tried to find comfort through food, put on a lot of weight. My knee transplant couldn't be done because I was only in my 20s and doctors advised me to do it a few years later. I did my best to not lose touch with law. My brother (Raj Rachakonda, director of Mallesam) convinced me to follow a diet plan and I began exercising later, finally physically agile to feel alive all over again.
A film opportunity knocks the door
It was in this phase that we had a school reunion, which I attended with great reluctance. I was received with great warmth by my friends and there was this junior who was listening to me with immense interest. He was actor, filmmaker Praneeth Yaron, he had written a post about me on social media and later wanted me to act in the film he was directing. I had to keep him away for a while, but he was keen to cast me in a small role as a shack owner in Goa. He treated me royally on the sets, introduced me to people as his school senior.
My co-actor Kalpika Ganesh felt I deserved a bigger role in it; the film is yet to see the light of the day. She was later gracious enough to recommend my name for a couple of films and I remain grateful to her for that. Prasanth Varma's Awe was one among them, I auditioned for it, got selected and it was a blink and a miss appearance. It was actor Nani's production and I didn't want to miss that experience. I was never greedy to bag offers and didn't go out of the way to talk to people on sets. Yet, it was a surreal feeling to notice my name in the credits for the first-ever time on the big screen.
The learning curve
It was an unreleased film titled Mayam that showed me the toil and sweat it takes to tell a story. I tried hard to learn and evolved as an actor through the process. To date though, I still don't like watching myself on screen and am harsh on myself. I took a break in between when my daughter my had conceived; she was my priority.
I was offered VN Aditya's film Valliddari Madhya shortly. I am not aware about the Director V.N. Aditya sir. Then my film colleague and friend explained me about him and his films. I am fortunate to work with such a great director who is highly creative yet humble. The dialogues in my shots were spontaneous. The shooting experience was memorable. V N Aditya had always encouraged me, informing me that there was a void of good actors in my age group and also advised to plan my career properly for a long journey ahead.
Having a sibling who's part of the film industry
My brother Raj Rachakonda is probably the only person in the family who has been so interested in films. There were no movie-inclined people among our near and dear and we used to always laugh about his views on films casually. He had directed a few short films in the US a few years ago. He produced a Tamil film that did him more harm than good. I always thought he was a storyteller at heart and told him to either write a story or direct it and that he wasn't destined to produce films.
A few years later when I had joined films, he came to me talking about his project based on Chintakindi Mallesam's life. I was the first person to know his intent to direct a film and supported him despite opposition from family and friends. He was a man of very few desires, lived for his family always. This was the only dream he had nurtured and I felt he deserved a shot at it. Films were his only passion. We managed to convince our parents and they were probably the happiest to see their son bagging awards for Mallesam later. He worked hard while shooting in a remote village, braved several issues through its making. People like B Narsing Rao, Laxman Aelay volunteered to work for the film and it was a beautiful experience.
Everyone was surprised that he didn't cast me in the film despite me being an actor. In the time during my daughter's pregnancy when we were going through anxious times, he asked me to come in a location near Pochampally to play a small role as a gynaecologist in the film. My brother was happy and grateful that I took time out to play the part amid my daughter's pregnancy. I was playing a government doctor in the film, but he was joking that I looked more like a corporate doctor.
A short film experience
I got to work on a short film titled Extended Warranty, where I played the role of a 60 plus grandmother. I never watched any short films before and the director Goutham told me to do it only if I liked the story. I was so moved and was surprised that a young guy had great maturity to think on those lines. We had a workshop in theatre actor Suresh's house; the film got me great compliments and people were appreciative of the fact that I delivered the last sequence in a single shot. There were no dialogues in the scene, it was only a series of expressions.
I was offered a role in "Vaalliddari Madhya". I am not aware about the Director V.N. Aditya sir. Then my film colleague and friend explained me about him and his films. I am fortunate to work with such a great director who is highly creative yet humble.
Stepping into the digital space
I later received a call for a web series, Chadarangam and was to be cast in a role modelled on Indira Gandhi. I was nowhere close in terms of physique and persona with her; I felt I wasn't fit for the role and tried to come up with many excuses to ignore it, but the team was persistent. Thank god that I ignored the initial apprehension because Chadrangam went onto give me the greatest high as an actor.
Twelve hours of work on set revolved around me, the setting was exquisite and the director Raj Anantha had immense clarity on what they wanted. I loved the attention they gave me. I owe the director so much. They worked for long hours and were leaving no stone unturned to get the shots right; the results truly showed and slowly my diary started getting full. I simultaneously wrapped my portions for Payal Rajput's next, Vithalwadi and a few other films. The pandemic then put a break to my momentum. I was anyway planning to take a break to undergo knee surgery by March. It would have been productive for me to have finished that and gone on a break, however, COVID-19 happened. We have been abusing our planet for long and this was destined to happen. But we need to introspect hard about the world that are we leaving for the young.